CITY COUNCILORS' PANEL
Wednesday, September 14th
6:30-7:30 pm
Tualatin Library Community Room, 18878 SW Martinazzi Ave.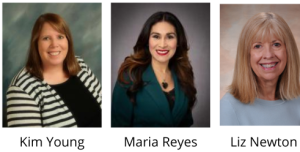 The Tigard Area Branch of The American Association of University Women (AAUW) is hosting a three-person panel of regional city councilors.  Panelists include Sherwood Councilor Kim Young, Tualatin Councilor Maria Reyes, and Tigard Councilor Liz Newton.
The city councilors will be discussing a number of topics that affect all of us directly, such as housing, transportation and safety.  Included in their discussion will be their city's goals, challenges, projects, and successes.  There will also be an opportunity to ask questions.
The program is free and open to the public.
___________________________________________________________________________
PROJECTS/FUNDRAISING
We actively support AAUW National's programs by raising awareness of Public Policy Issues and by fundraising for AAUW Funds, which awards fellowships and grants.  Our branch also awards a scholarship to a woman who attends Portland Community College in preparation for a 4-year degree.
MEMBER SPECIAL INTEREST GROUPS
Our mission of advancement for women is a priority for our branch.  We offer fellowship, networking, and the opportunity to make lifelong friends.  Our interest groups include:
Book Discussion
NW Discoveries:  Excursions that are sometimes off the beaten track.  In addition to known Portland attractions such as the Art Museum and the Rose Garden, we have explored more eclectic interests, such as going behind the scenes with a judge or learning how to decorate a cake.  Usually, a docent or instructor brings our subject to life; then we talk about our experiences over lunch.
JOIN US
For more information about our branch and how to join contact:                  
Finance Vice President: Ilga Ross, 503-692-6602 (leave a message)