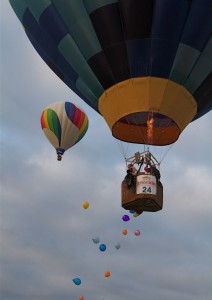 If you're interested in the company of dynamic and intelligent women, we have a wonderful group for you!  We are always interested in new people and ideas.   We serve all of Tigard, Tualatin, King City and Sherwood, as well as Beaverton, SW Portland, Newberg, McMinnville, and Wilsonville.  Most of our monthly general meetings are on Tuesday evening. They feature interesting speakers and are free and always open to the public and to potential members. Smaller gatherings of interest groups occur throughout the month.
JOIN US FOR OUR APRIL MEETING
Tuesday, April 10
6:00 p.m.
Keller Williams Office Building
7504 SW Bridgeport Rd.
Tualatin
Salad Potluck and Branch Birthday
The April program will be our annual salad potluck and Branch birthday celebration. The potluck is just for having fun and socializing. Please bring a salad of your choice to share. You can count on having a good time sampling an array of delicious salads and birthday cake.
April 20-22, 2018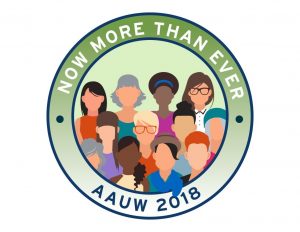 NOW MORE THAN EVER…WHY SHOULD YOU CARE? This will be a top-notch conference held at a time when we can all make a difference!!!
Hear inspiring keynote speaker Dr. Melody Rose, Marylhurst University,
Interact with counterparts in other branches,
Celebrate branch successes,
Participate in session programs on sexual assault in schools, mentoring the next generations to run for public office, and women in the armed services to name a few, and
Strengthen branch operations and effectiveness.
Plan now to be part of the event!  See you at the Embassy Suites Tanasbourne in Hillsboro.   Early registration materials will be available soon!!!
PROJECTS/FUNDRAISING
We actively support national AAUW programs by raising awareness of Public Policy Issues and by fundraising for AAUW Funds, which awards fellowships and grants.  Our branch also awards a scholarship to a woman who attends Portland Community College in preparation for a 4-year degree.  In December, we ensure that our donations make for a happy holiday for a family in need.
MEMBER SPECIAL INTEREST GROUPS
Our mission of advancement for women is a priority for our branch.  We offer fellowship, networking, and the opportunity to make lifelong friends.  Our interest groups include:
Book Discussion
Lunch Bunch
NW Discoveries:  Excursions that are sometimes off the beaten track.  In addition to known Portland attractions such as the Art Museum and the Rose Garden, we have explored more eclectic interests, such as going behind the scenes with a judge or learning how to decorate a cake.  Usually, a docent or instructor brings our subject to life; then we talk about our experiences over lunch.
JOIN US
For more information about our branch and how to join contact:                                     Membership Vice President:
Dianne Kaepplinger  503-998-5683